What will contribute mainly to give you the heavenly bridal look on your wedding day? Of course, the gorgeous hairstyle can make you extravagantly beautiful and graceful. A bride should be very careful while choosing her hairstyle. Think through the following essential factors.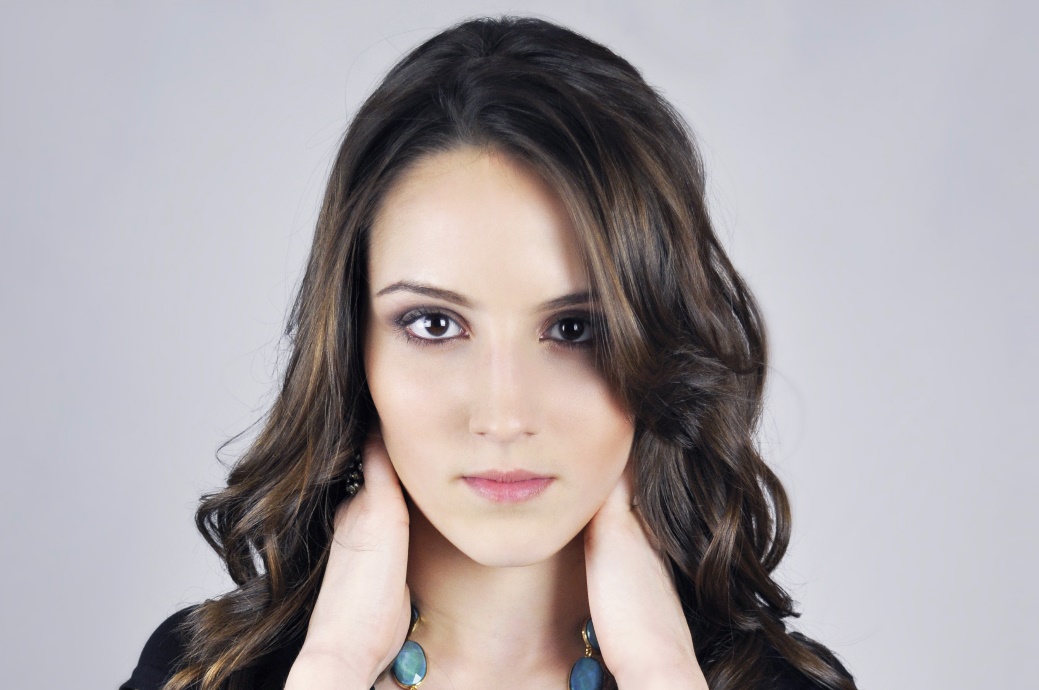 ⇒ Shape of your face
Hairstyle suitable to your face structure makes sure of your nice looks. Think through your favorable points and minus points about the face structure. Choose a hairstyle which will enhance your looks and hide the defects.
⇒ Type and length of your hair
The type and length of your hair can give you a clear idea to choose a good hairstyle. If your hair is so soft, then don't manage it in a very complicated hairstyle. Think about the hairstyle as per your hair texture. If your hair is curly, try to enhance your look with some curly hairstyle. It will beautify your natural look.
⇒ Wedding costume and its neckline
There are some points to consider about the costumes as its length, neckline, sleeves, work on it and its color. In accordance with all the points choose a hairstyle and hair accessories. Try your chosen hairstyle with costume before the ceremony. It will help to finalize your perfect look.
⇒ Venue of the wedding
The venue and climate at the time of the wedding can also affect your hairstyle and you. So if you are going to marry in a hot and humid environment then prefer hair tied styles. Hairdos harmonizing with the venue and climate will make you more comfortable all through the ceremony.
Last but not the least give yourself plenty of time to choose the hairstyle because the lack of time will just add stress.
You need not go to any hairdresser directly. Here are some gorgeous hairstyles which will help you to give a special heavenly look.
• Indian Classical Bun:
Saree, Lehenga, Ghagra - Choli and Lehenga Style Saree are the traditional wedding costumes in India. Indian classical bun is all time favorite option which harmonises very well with the traditional attire. Maang Tika can be used very skillfully in this type of hairstyle. Indian brides usually cover their head with dupatta, so the bun needs to pull tightly. Neatly done low bun accomplished with fresh flowers and attractive hair accessories give a perfectly ethnic Indian look.
This classical hairstyle can carry beautiful stones and jewelled hair accessories which complement the wedding costume. This classical hairstyle is perfect with almost all types of wedding attires.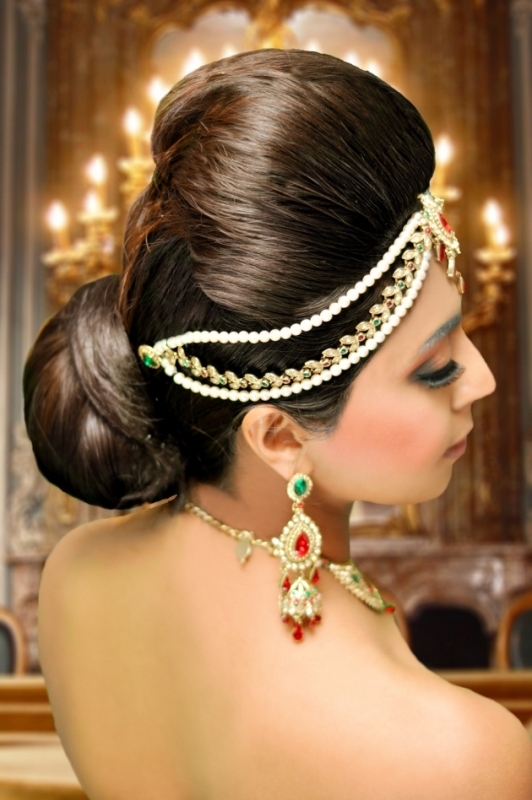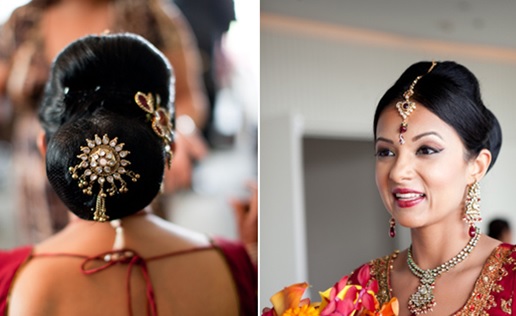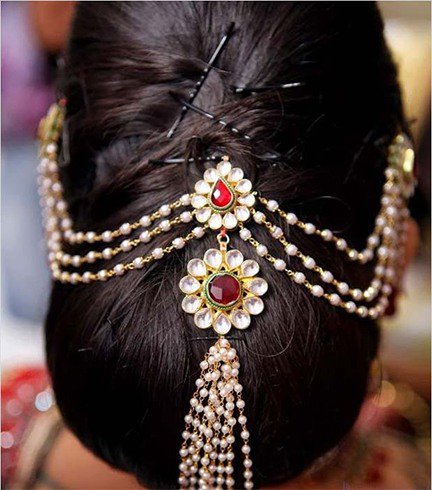 • Braids:
It's a traditional type of hairstyle. Still, it looks lovely on any bride. Fishtail braids and waterfall braids are very popular and offer an elegant touch to bride's beauty. Braids look beautiful on medium or long hair, but others can also achieve the same hairstyle by adding some hair extension.
An elegant Indian look is served through a side braided traditional hairstyle. It is a perfect hairdo on saree. Fresh flowers and jewelled hair accessories give a royal look through this hairstyle. Long and well-knitted braids give additional charm to the beautiful bride.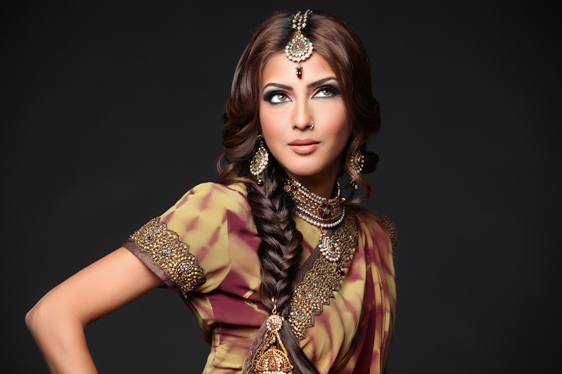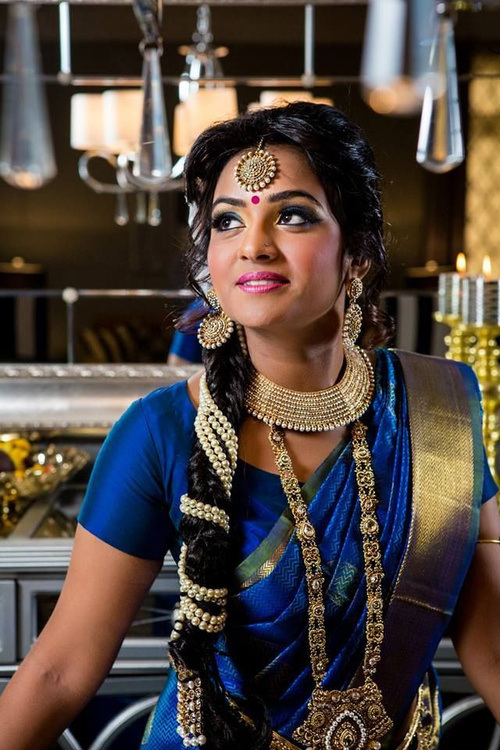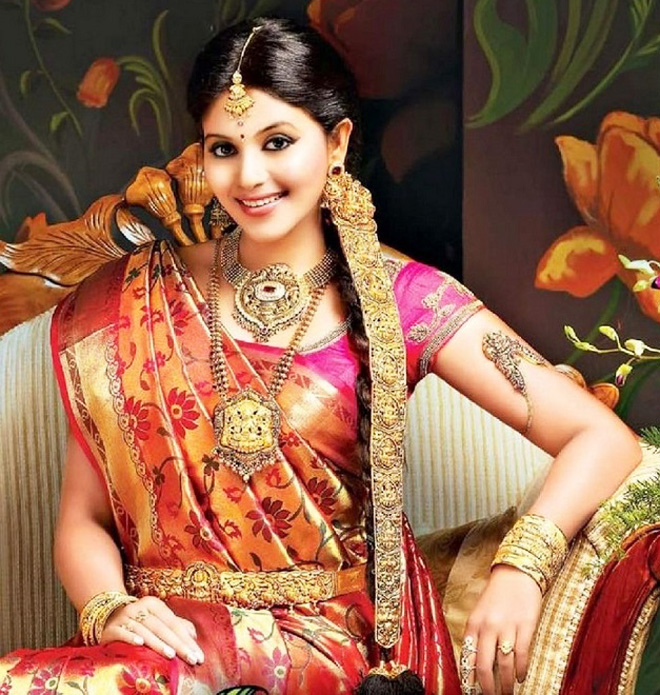 • Messy Buns:
A twist to normal buns is messy. These buns are not so perfect but look very stunning. You can try these buns if you are not going to cover your head. These buns add softness and natural touch to your face. Fresh flowers enhance its impact. These hairstyles look so stylish with minimum hair accessories. It's a good option if you are not going to cover your head with a dupatta or it's the best option to wear at your reception party.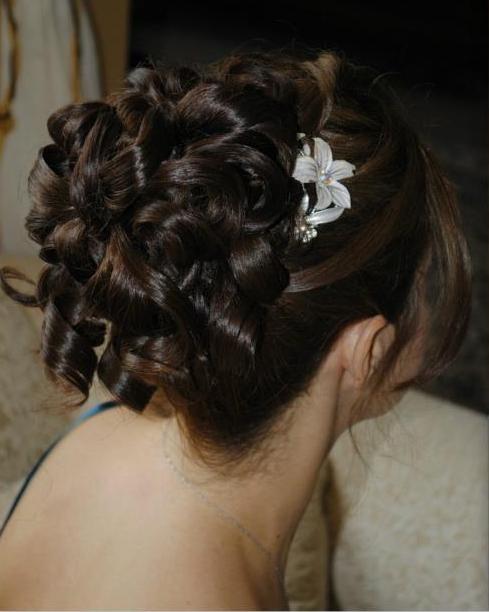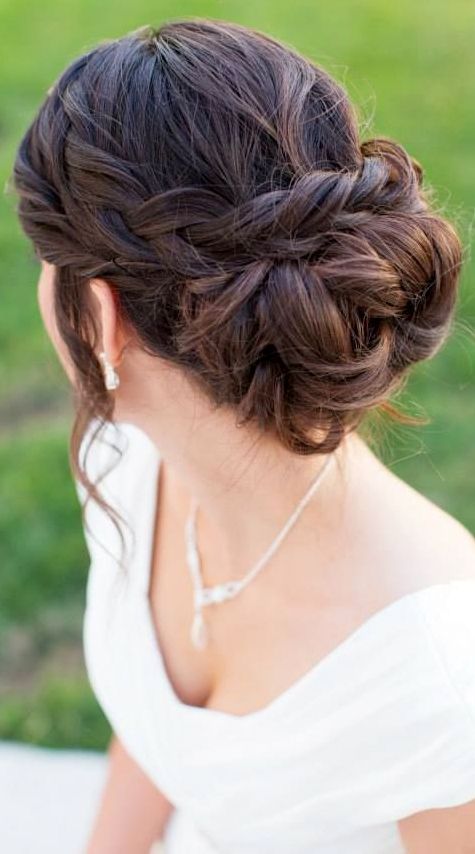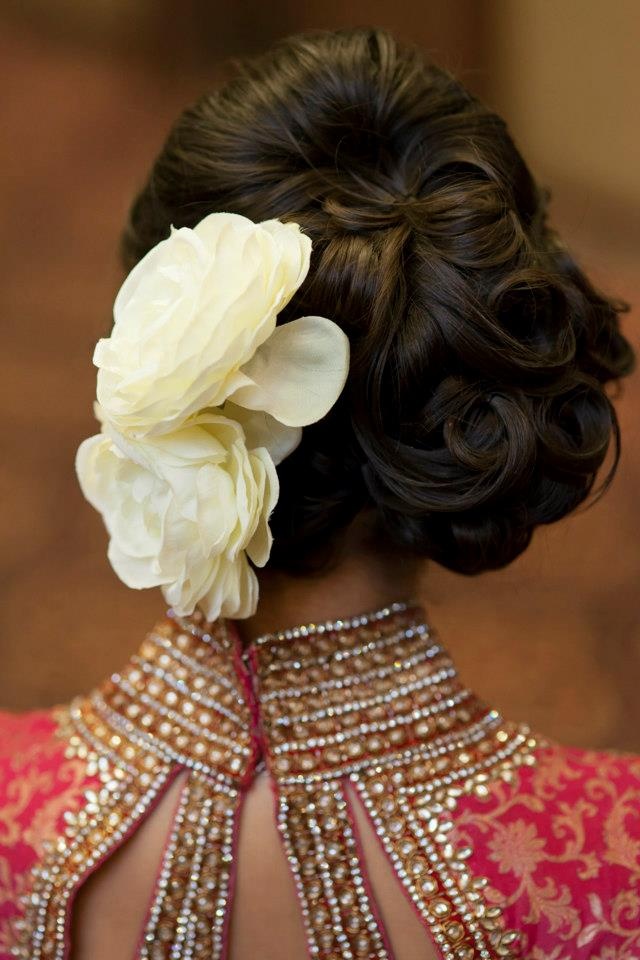 • Curly Hairstyles:
Wavy and curly hairstyles are also similarly popular. If you have curly hair, then it will be easier if not then also no problem you can make the curls and look gorgeous.
→ Open Curls and Waves
If you have thin hair and want to give a volume to it, then it's a better option to present a prettier you.
Just pin up the hair at the back or just one side either of the two. These open curls will present you prettier than before. Long earrings, bindi, and flowers can create a perfect stunning look with this style.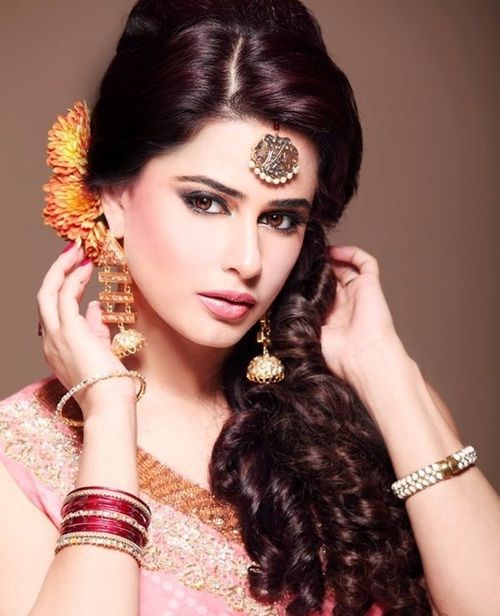 → Pulled back Curls Hairstyle
It is the most fashionable hairstyle. It goes perfectly with the wedding gown. This style creates the prettiest version of you with minimum jewelry and accessories.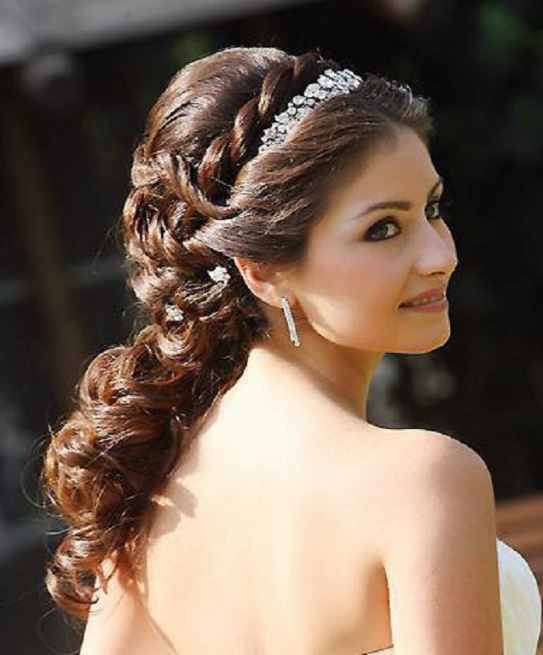 → The Curly Messy Braided Hairstyle
This hairstyle gives a hot look. The messy curly braid offers a natural attractiveness to the bride. This is a simple but attractive style for medium length hair.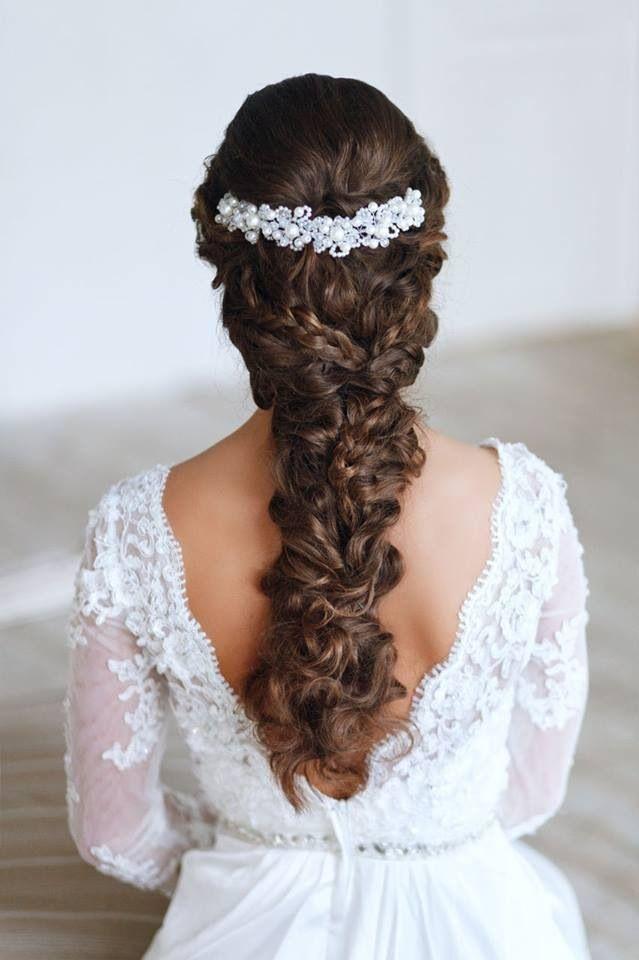 → Low Curly updo with a Jeweled headband
Low curly updo is a stylish hairstyle for medium length hair. The jeweled headband and complementing earrings complete the beautiful look. It can be a graceful hairdo on a colorful wedding gown.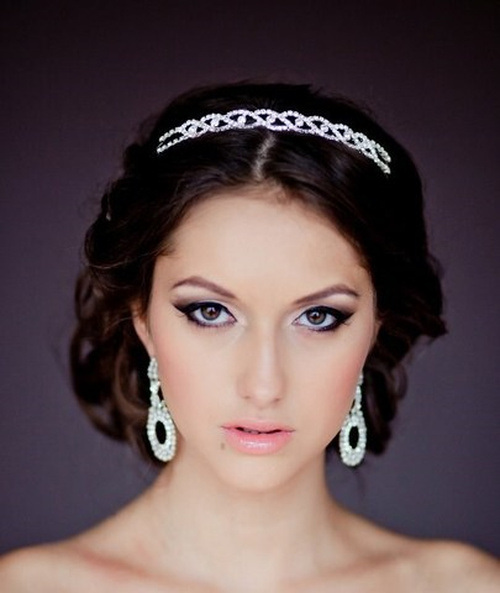 • Side do hairstyles:
Side do hairstyle enhances your stylish look. It looks fabulous. It complements well with a colorful and embellished wedding gown.
→ Low side updo with waves
It is comparatively easy to create and maintain hairstyle. It is gorgeous and stylish one for short hair. It looks prettier with some simple and minimum hair accessories.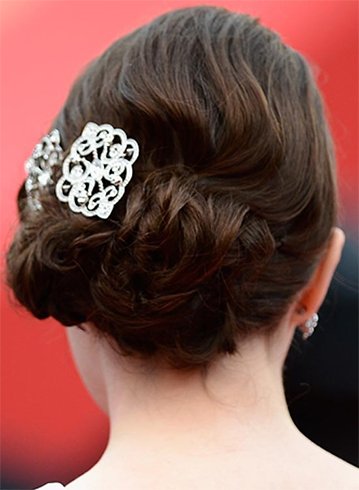 • Voluminous Indian updo with a polished finish:
This is a multi-layered hairdo amazes with its volume the flawless polished finish and delicate choice of hair accessories. It gives a real princess like look to the bride.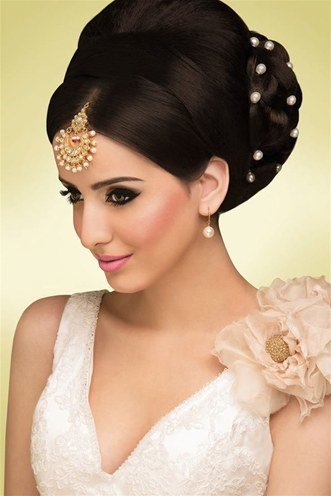 Think clearly about the look you want to present and which will suit you most. Don't be confuse, discuss with your friends. There are also some online virtual hairstyle sites such as hairmixer.com or The HairStyler.com, where you can upload your photo and try hairstyles. It can give you some idea and help you to decide the style.
So brides don't be confused just remember don't overdo, stay true to yourself and keep your hairstyle cohesive with your costume, makeup, and personality. Be ready for
the most gorgeous
look of you.