As wedding bells ring in the family, a flutter of happiness runs in the home as the wedding gets finalized but along with it, comes, anxiety-anxiety to make all necessary preparations for the same. Everything needs to be executed perfectly too. Below we bring to you a few wedding venues in Dadar which you could consider for an unmatched wedding experience. Dadar, being a prominent neighborhood in Mumbai, is densely populated and is also known for its shopping avenues. Dadar is also a popular venue for wedding shopping. It enjoys great connectivity by road and by rail both locally and nationally. People from different parts of Mumbai visit Dadar for their wedding shopping. Given below is a modest attempt at making the other most important aspect of wedding arrangements, booking the venue; a little easy for you.
1. Amar Hind Mandal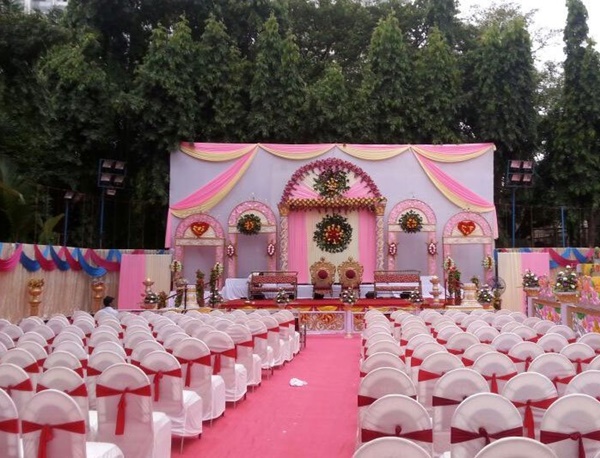 Amar Hind Mandal is a very established hall which was started in 1947. It is renowned for its excellent services and vast space. The hall is not embellished with much décor which leaves room for the decorator to weave his magic and create the décor of your dreams. The venue also offers a few décor options. The venue has an attached lawn which can be utilized. This gives one the freedom to host their event in the open air as well as within an air conditioned hall. One can host a variety of functions like weddings, sangeet ceremonies, receptions, dance and act performances, naming ceremonies, Mehendi functions, private events and social events.
They offer catering facility of both vegetarian and non-vegetarian cuisine which has received appreciation from numerous guests over the years. Apart from a stage the venue offers changing rooms for the bride and groom. One can expect friendly service at this venue which is very essential when planning events as important as weddings. The venue is spacious enough to accommodate about 1000 guests comfortably.
2. Venezzia Rooftop - Hotel Shantidoot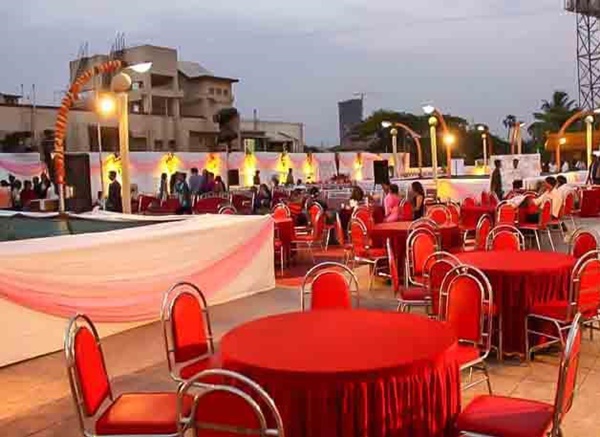 The rooftop of Hotel Shantidoot - Venezzia, is one of the best versatile venues which can be used to host various events with a range of guest count from 300 to 1000. The venue enjoys excellent connectivity by virtue of being located near the Dadar Railway station and just 9 km from the airport. It is also quite well known as it has been used to host events- private, social and business events- since the last 38 years.
Booking this venue has its own advantages. You can book rooms for your guests at this venue. The Hotel offers accommodation in the form of pleasant and well-furnished rooms to suit all requirements. Numerous amenities have been included to make the guests' stay comfortable.
The rooftop is a spacious area which has both covered and open air spaces which allow for great flexibility in the use of the venue. They offer a wide variety of cuisine and are experienced in catering to various events like parties, weddings and business events. The delicious cuisine comprises of Punjabi, Gujarati, Chinese, Mexican and Italian cuisine. The provision of sound-system, changing rooms, valet parking and DJ facility makes it an ideal wedding venue.
3. Pracharya B N Vaidya Sabhagriha - Raja Shivaji Vidyasankul Campus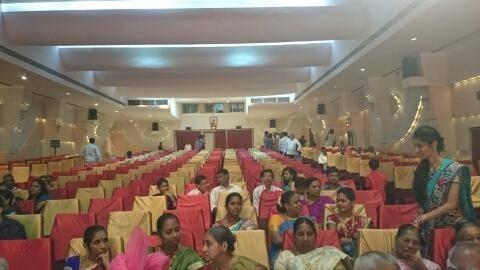 The Pracharya B N VaidyaSabhagriha is the ideal wedding venue for a guest count of up to 500 with excellent amenities and connectivity. It is located next to the Ruia College and receives a lot of patronages when it comes to hosting events like pre-wedding functions, wedding functions, anniversaries, birthdays, conferences, annual general meetings, and corporate events.
The venue is available for events after school hours. Being a part of a school complex, Pracharya B N Vaidya Sabhagriha Hall one may be restricted from conducting loud events during late hours at night. Since the area that surrounds this venue is calm and quiet, it is ideal for corporate events. It is also quite an affordable venue. The venue offers the facility of stage, sound system, changing rooms and valet parking which adds to the convenience of the guests. This air-conditioned hall is an ideal space for weddings, product launches, and other functions.
4. Annasaheb Vartak Hall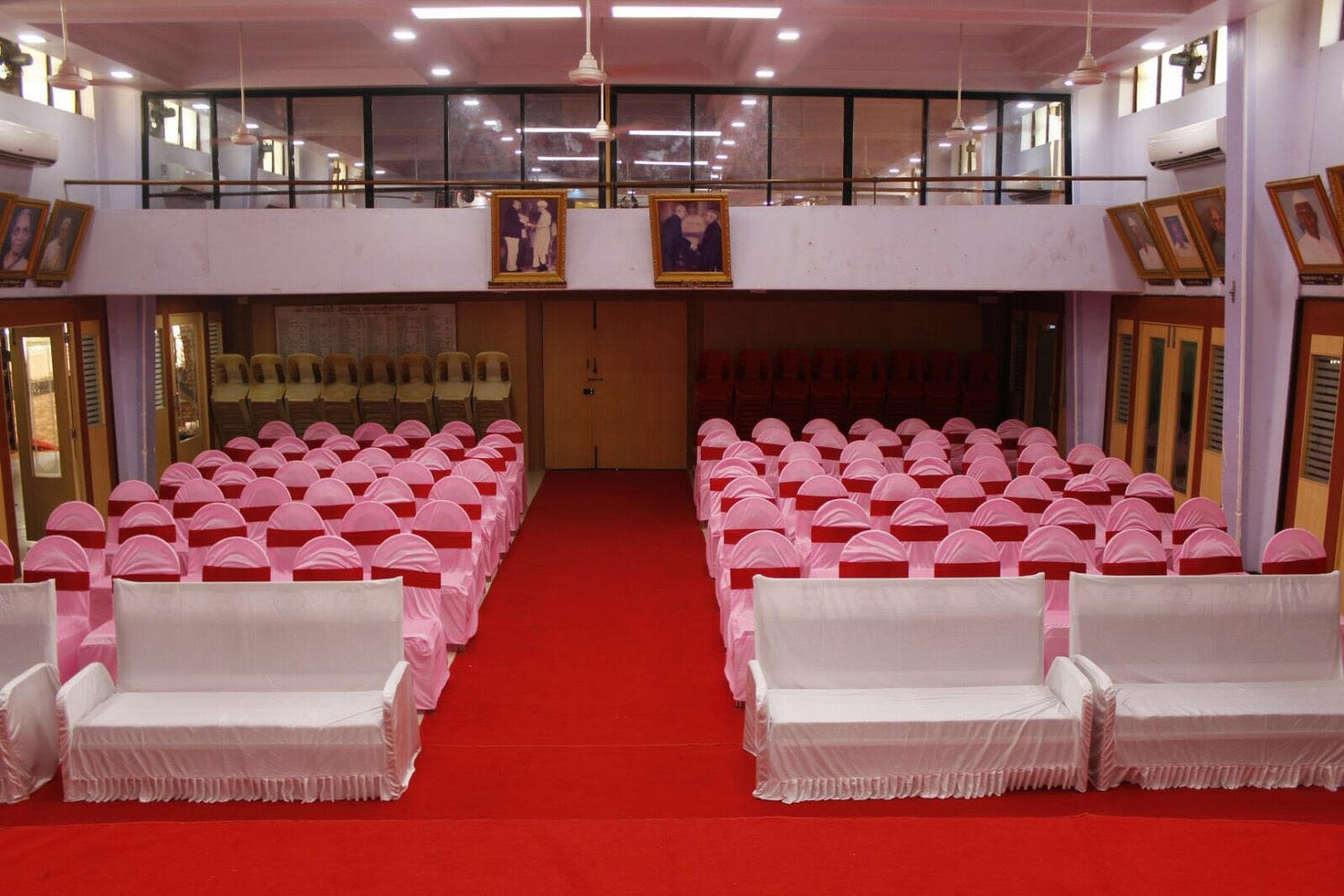 Located in Dadar West, this air-conditioned wedding venue is quite popular among the residents. It can accommodate events with a capacity of 500 guests. The interiors are elegant but leave some room for the decorator to explore and enhance. The capacity to host events like a small wedding ceremony, private parties, etc. makes this an ideal choice of venue for many.
The vegetarian cuisine served at Annasaheb Vartak Hall has received much appreciation for its taste. The services provided at the venue are commendable too. The facilities of changing rooms, sound system, stage and valet parking make this a very convenient venue for weddings. The decor and catering services are provided in-house at this hall.
5. Dadar Parsee Colony Gymkhana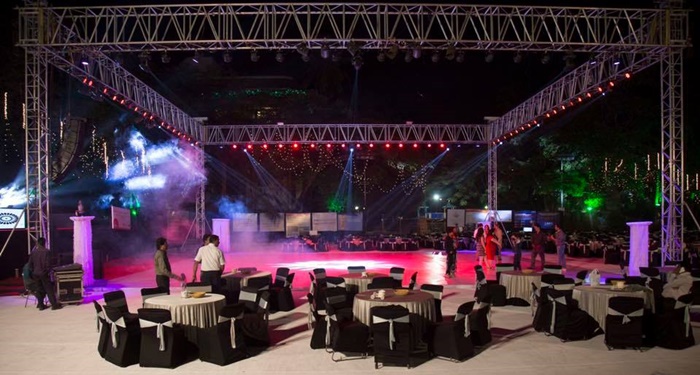 Almost 90 years old, the Dadar Parsee Colony Gymkhana is one of the oldest sports clubs in Mumbai. It is convenient for guests to get there due to its location. The vast grounds are usually used to host big events like open air weddings, exhibitions, corporate events, cultural events and others.This huge space allows for wonderful décor options. Many weddings have taken place at this venue, and each time the ambiance is novel.
This wedding venue can accommodate from 500 to 4000 guests at a time. Additionally, they provide the facility of a stage and sound system. For the convenience of the bride and groom, changing rooms are also provided. Being a very popular venue, one would have to book this venue much in advance. It is an excellent venue for open air weddings.
In addition to offering big spaces, good connectivity, great amenities at affordable rates, one of these wonderful venues in Dadar can be the ideal one for you. Have a look at more images and information about the venue by clicking on the link attached to the name of the venue. Hopefully, you should find your venue among them. If not just connect with our team and you are sure to find the best one for you with all your specified requirements and more.