Let's go for a dip! Happiness is a day at the pool! Make a big splash… it's a birthday bash! Want to plan a poolside birthday party? Here are simple steps for planning a birthday party.
1) Invitation -
A colorful poolside party invitation
You can choose to invite your guests online. Select a suitable format, design your own invitation card and invite your comrades and family members or relatives to attend your birthday party. Otherwise, you can design invitation cards using your own imaginations. Post them and invite your companions. Design Invitation card on a beach ball. Provide all details about the party and send it in the form of the invitation.
This would be one of the amazing ways to invite guests to your birthday party. You can also use Frisbees for designing unique invitation card. See to it that all information regarding party is provided on it. You can send treasure map style invitation if it is a pirate themed party. You can also make your invitation card aquatic themed.
2) Choosing a venue -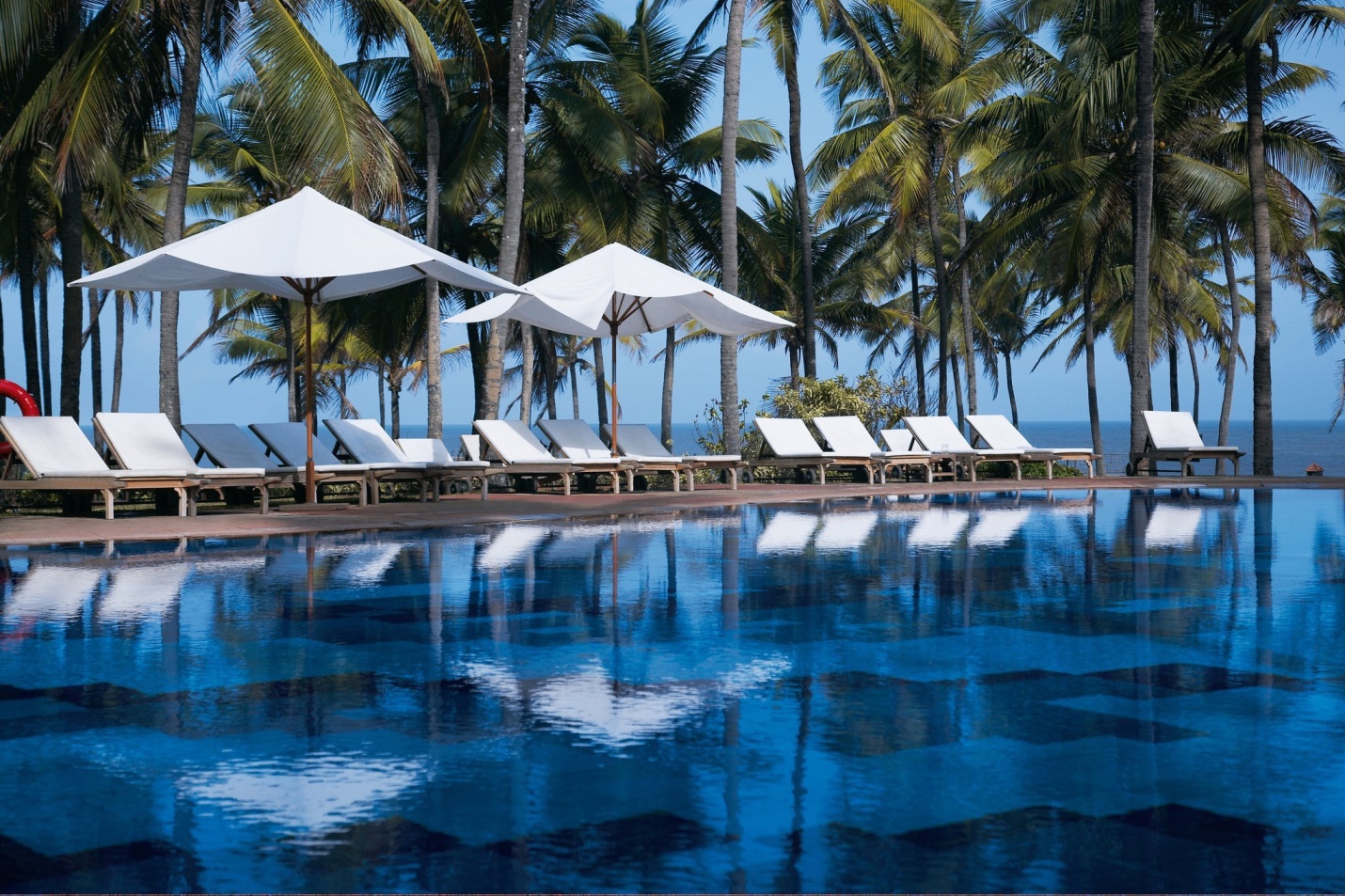 A well-known pool venue - Vivanta By Taj, Goa
Finding a pool is the first and foremost thing to be done in the process of planning a poolside party. If you have your own pool that's really great!! But if you don't have one then you need to hire one. Choose cool and calm pool. Or you can even go for a community pool. Some of the suggested pool venues are - Addah - the O hotel, hotel Marriott, and hotel Vivanta etc. See to it if DJ facility is available if you are planning to end the party with Dj.
Few well-known pool venues across India are - Aqua - The Park in New Delhi, Sky Bar in Mumbai, Palladium Hotel in Mumbai, I-bar at Bangalore, Club Cubana in Goa, Nailbagh palace in Jaipur, Dome - Intercontinental in Mumbai, SinQ Beach Club In Goa and I-candy in Gurgaon etc. These places are one of the best places to arrange a grand poolside party. But if at all they are not easily accessible for you always prefer an accessible pool nearby your residence.
3) Decorations -
A poolside decorated with lantern and comfortable seating arrangement
Create the scene for the party by draping garlands of brightly colored lanterns. Ignite torches, grab glow sticks and let all enjoy magical midnight swim. Arrange a lounge chair for guests who prefer to sit to poolside. To add the essence of nature, natural elements like stone, pebbles and flower beds can be used.
Moreover one can go for cave homes with an indoor pool. If lounge chairs, towel hooks are arranged in a symmetrical manner it will capture the sight of the guests and will add to the Mediterranean design. Use matching design in the area along poolside. Let them be relaxed and cool. Lighten both, the pool and the adjacent places.
4) Prepare towel storage areas -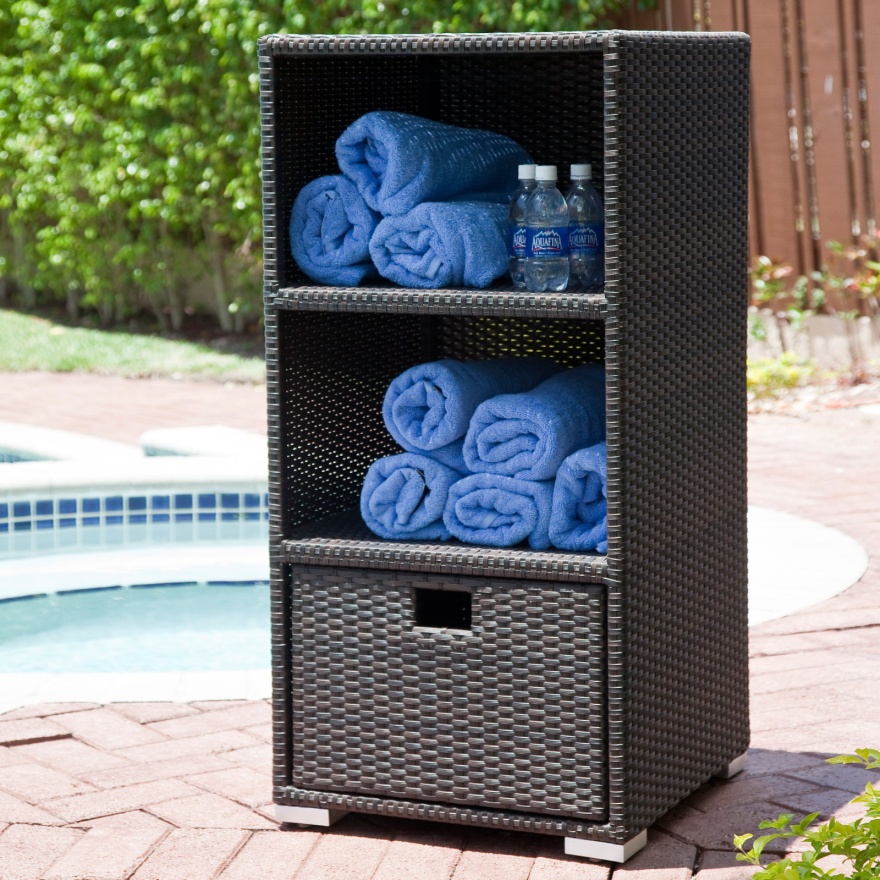 A storage unit for towels to avoid making a messy pile
Instead of a messy pile of towels at the poolside prefer brighter and attractive ideas to arrange them neatly. Make a pool towel hanger from a barn door. Make comfy space from an old cabinet to keep clean towels. Place a towel rack in patio. Towel baskets can also be used to avoid a pile of towel near poolside. Pool towel holders can be made out of old furniture.
A metal rack or wooden shelf can be used to keep towels in a sophisticated manner. You can make stylish drawers in the wall near patio itself. It will easily accessible to the guests. Hanging towels to a ladder are also a witty idea to avoid a pile of it. Wooden barrels attached to the wall vertically will also gather all the towels systematically.
5) Foodie-fun -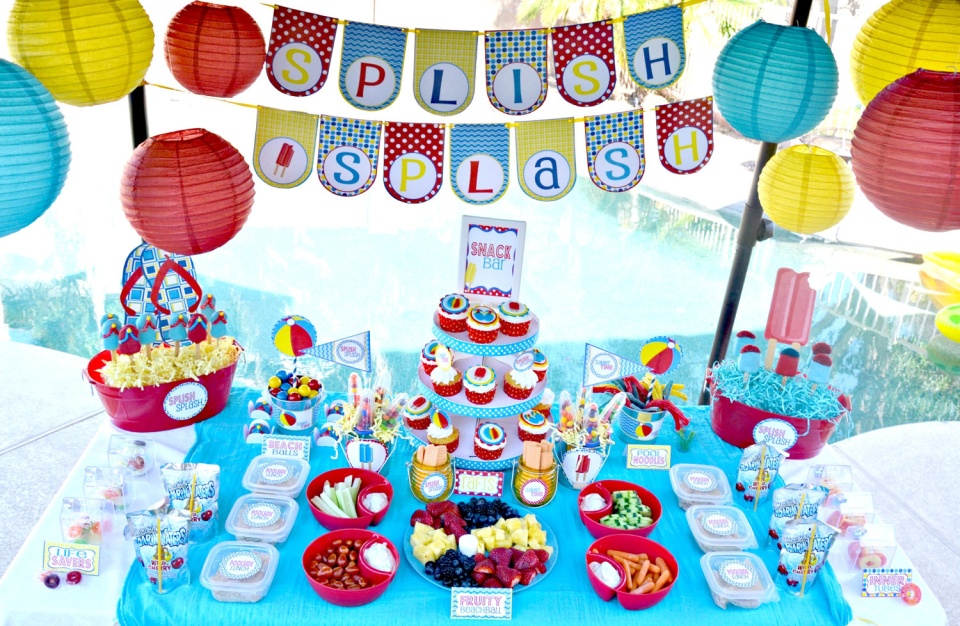 Fresh fruits, desserts, cookies and other snacks for a poolside party
Playing in the pool will surely leave everyone hungry for snacks. Plan some chips and guacamole, fresh lemonade, watermelon slices and popsicles for the guests. Plan for cocktails, ice-creams, sandwiches, party cake, pizza, pineapple colada island desserts etc. Mint iced tea, crunchy zucchini rounds, spiced beans, marinated peaches, chicken dishes and strawberry waffle which will add flavor to the party.
Finger licking food will make the party memorable. Brackish and briny beverages will give soothing taste. These mouthwatering dishes will serve the lush of the western food. Eat, enjoy and be merry!
6) Pool party games -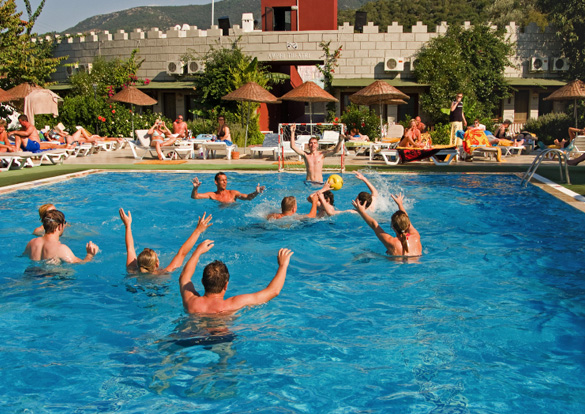 A group of people playing games at a poolside party
There are many poolside games that add to the fun. Few of them can be mentioned here.
• Water tag - A person is determined as 'it'. 'It' has a big ball with him. He tries to hit others in the pool with the ball. One who gets hit by the 'it' is the new 'it'. Games continue.
• Mermaid race - Hold your breath and find out who swims the longest underwater race.
• Waterman game - 'It' has to swim and tag another player. The player who is tagged then becomes the next 'it'. He then continues the game.
• Tug-o-war - It is played in the water similarly as we do it on the land. The difference is only that people are in the pool. The handkerchief is tied to the rope. At the start of the game, the hander kerchief is exactly in the middle. Each team tries to get it to its side.
One which succeeds is the winner.
• Transport - Swimmers have to hold a spoon and lemon in his hand. He has to swim only with the help of legs and reach with lemon to opposite side of the pool. One who does so is the winner.
7) Preparing the pool -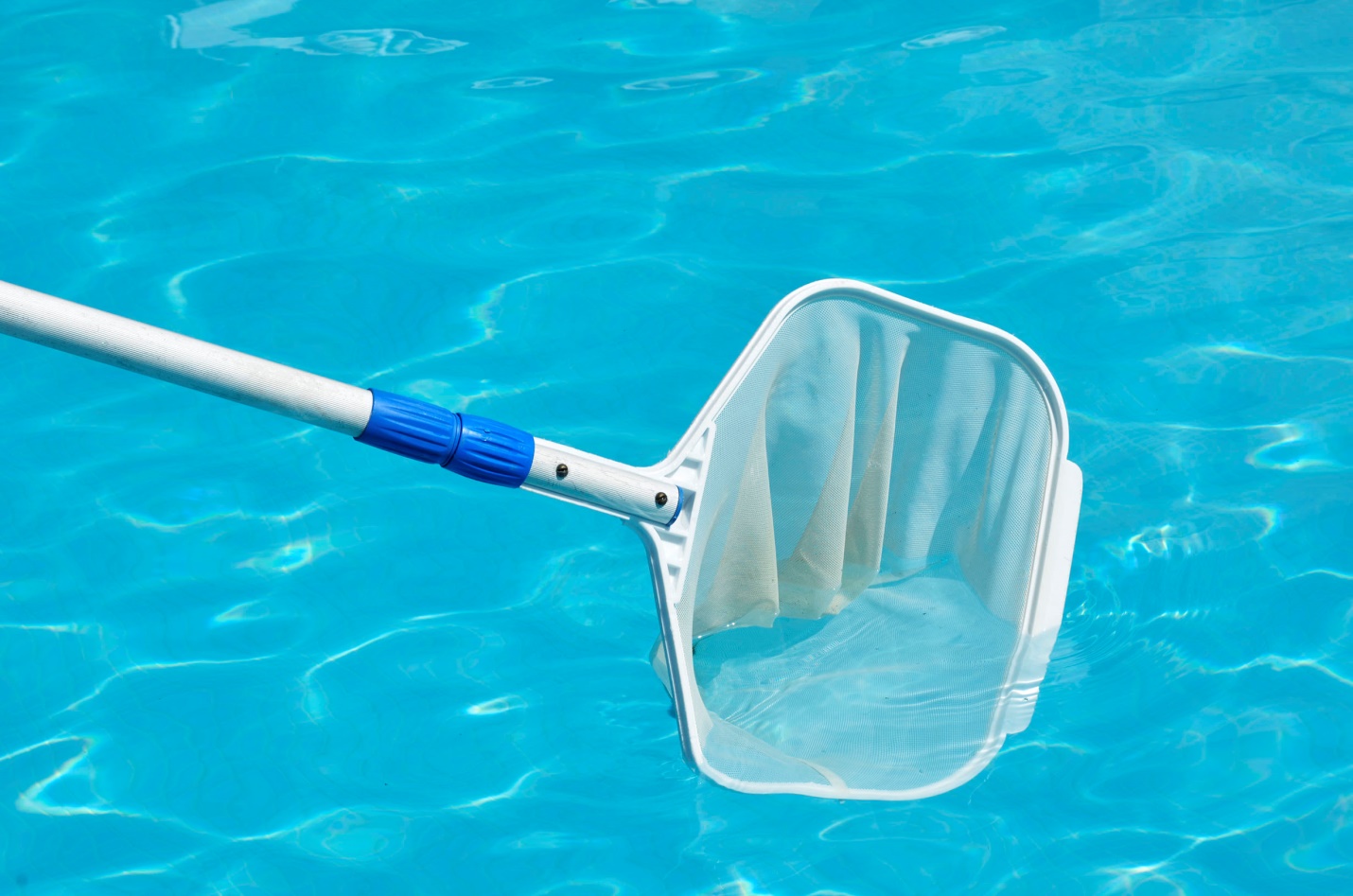 Cleaning of the pool
The pool should be cleaned well before the pool party. Water should be clean and clear. Insecticides should be sprayed in advance to get rid of the mosquitos and flies. Otherwise, flies can be a matter of concern especially while having snacks. Be familiar to the alkalinity of the water and to its pH level as well.
Identify its cyanotic acid, calcium hardness, and total dissolved solid levels. See whether the pool is shocked on time. Also, check whether algaecide is added to the pool well in advance. It is easy to take care of pool if it belongs to you. However, if you are hiring the pool, be open to asking all these details to the pool owner.
8) Jazz up your party -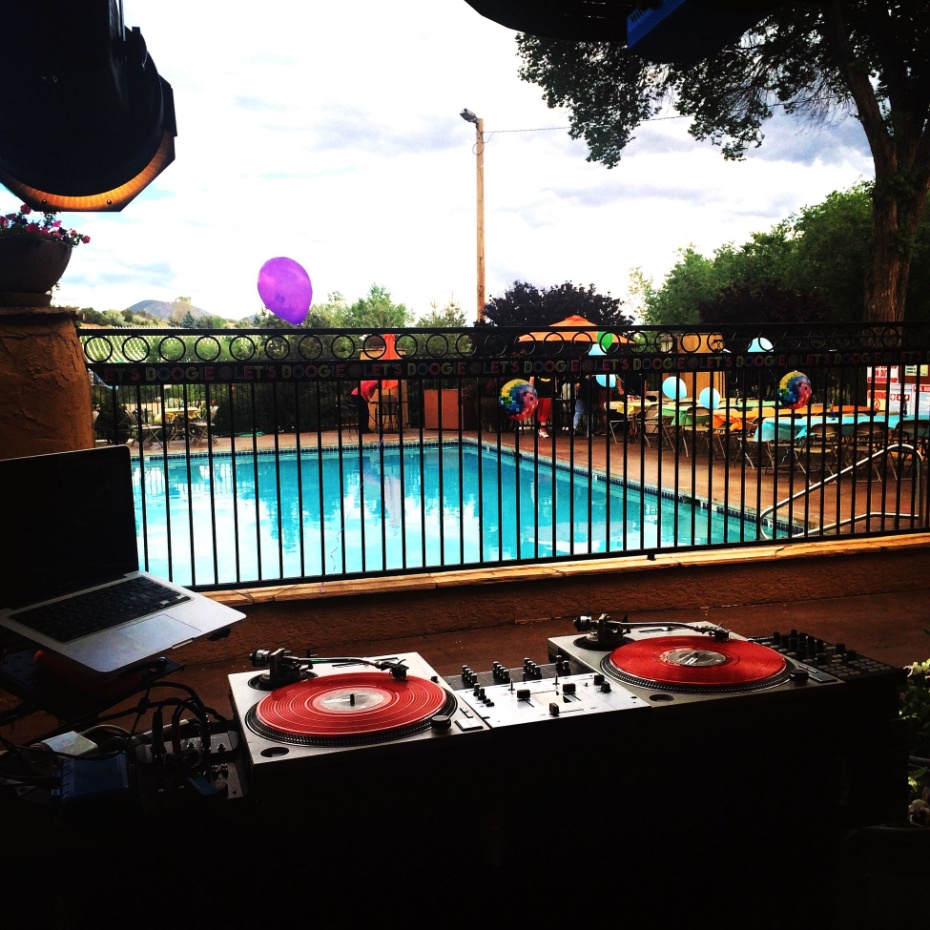 Choice of good music can bring life and right mood to the party
You can set the atmosphere by adding music to the party. Our soul is composed of harmony so be wise while choosing the music. Calm and quite a music will have a relaxing effect. However, if the group demands you should be ready to end the party with DJ.
9) Themes -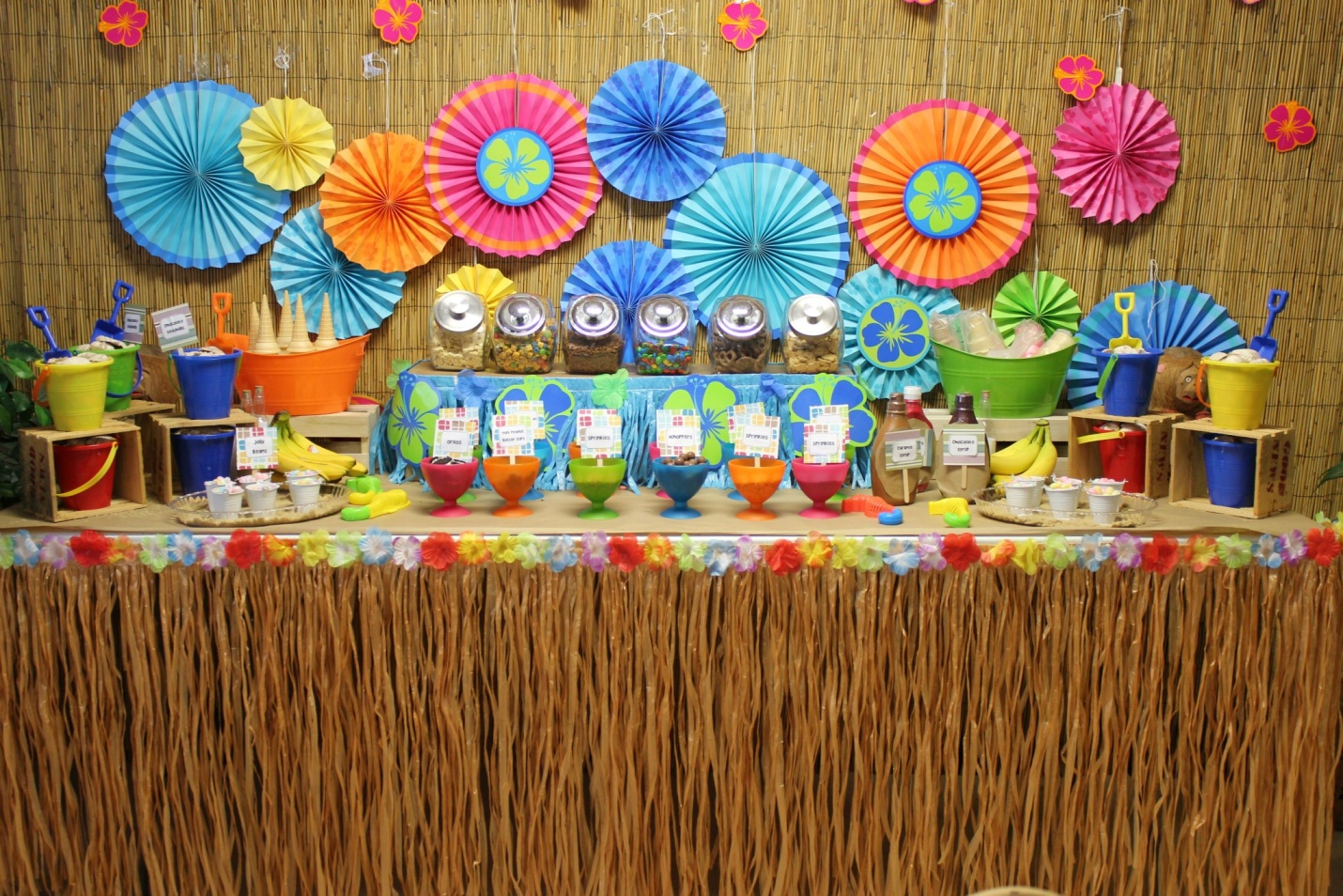 Food arrangements at a Hawaiian-themed pool party
A pool party can be accelerated with help of following themes - flamingo theme, ocean theme, pirates theme, nature theme, tropical theme and Hawaiian theme.
10) Accessories -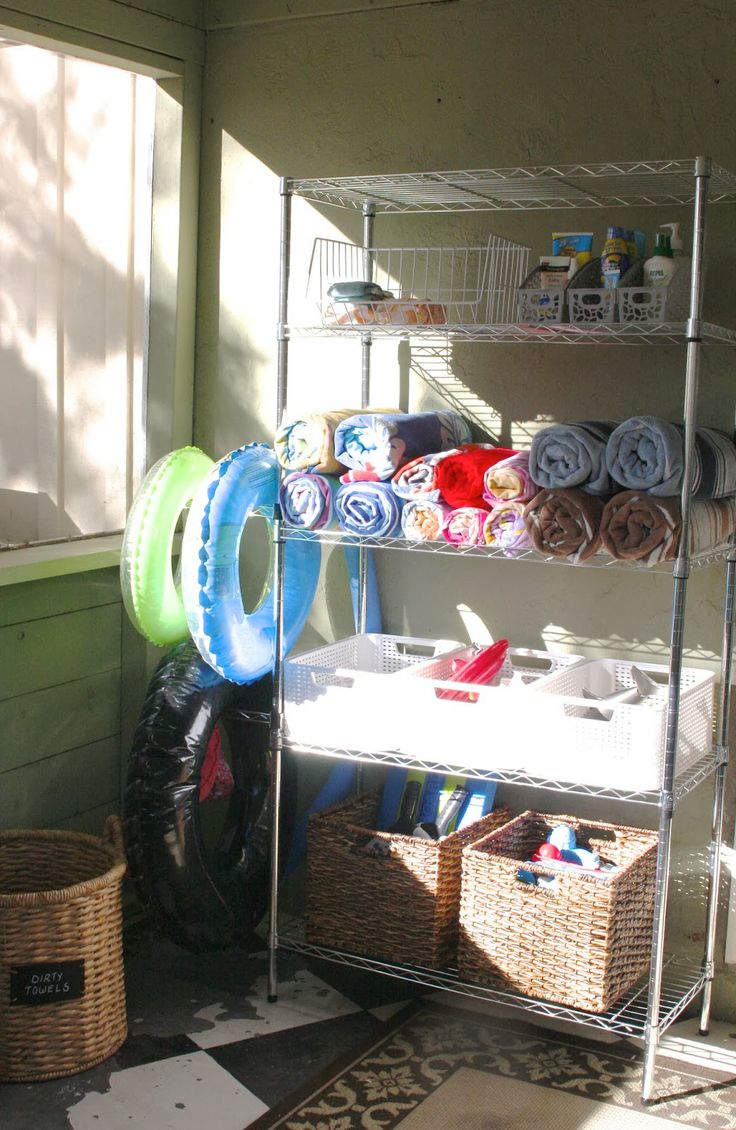 Essential accessories arranges for guests
Essential accessories should be provided to the Guests. These include –
• Supplying towels.
• Supplying sunglasses or the visors.
• Providing sunscreens.
• Providing swim goggles.
• Providing baskets to keep all valuables safely.
• Providing waterproof cameras for capturing splashy moments.
If all care is taken and safeguard is hired party can go on smoothly. Life is a party, invite yourself and enjoy with your buddies. It will be a great chill out! Everyone will have a whale of a time!!